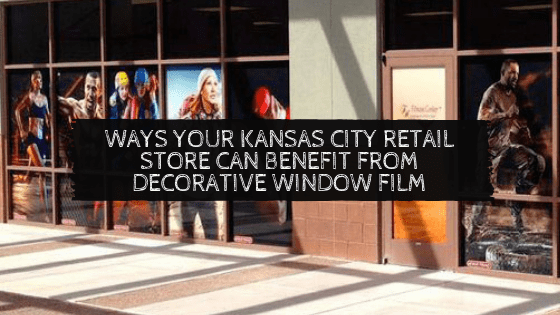 The retail scene is far from what it used to be. Consumer behavior patterns have changed dramatically in the past few years. A shopping experience is no longer browsing through different stores or comparing products on the shelf. Today's consumers are equipped with knowledge. They research products online ahead of time. Most of the time, before they even arrive to a store, they what they're looking for and they want to be able to find it quickly.
It's crucial that retail owners recognize these changes in purchasing behavior and adapt their marketing strategy. By creating clear concise messaging and showcasing discounts and sales, retail owners can increase their chances of getting shoppers to walk into their store. By using decorative window film, Kansas City retail owners can attract shoppers by highlighting sales and popular products on their storefront or window display.
Ways Your Kansas City Retail Store Can Benefit from Decorative Window Film
Why invest in decorative window film for your Kansas City retail store? Here are a few reasons why:
1. It can significantly boost your sales.
Using colorful prints and patterns on your storefront is a great way to attract the interest of shoppers passing by. Entice them to walk into your store by showing off your best products and sales with eye catching window clings.
2. You can decrease customer frustration.
Customers get frustrated when they can't find the products they want quickly or at the right price. With window film, you can be transparent about the cost of a product and help shoppers save time by informing directly that your store carries the popular item they're looking for.
3. It protect your store and merchandise from the sun.
Decorative window films are made from a special material that blocks out uv rays and heat. This is especially useful for retail stores who sell merchandise that's prone to fading in the sun, like cloth and leather.
Explore Different Styles of Decorative Window Film
Find a decorative window film for your Kansas City retail store today. Call our office to schedule your one-on-one consultation with a professional designer.