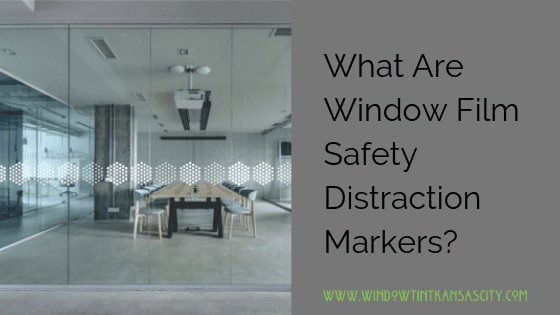 The use of glass in Interior design and architecture today is prolific. Glass walls and windows can be seen everywhere inside both homes and businesses. They have become a ubiquitous feature in workplaces everywhere. This is as true in Kansas City as any city in the US. Which is why it makes sense since glass walls and door make spaces feel open and bright. These glass feature present safety challenges though. People often walk into glass walls and windows either by accident or because they are distracted. This is a dangerous and increasing trend and one that is actually easy to avoid. A simple solution, called distraction markers, is fast, easy and cost-effective to install on windows and walls to make them more visible. It is a layer of window film with pattern embedded on it and it makes glass easy to see. This window film works great, looks good and has plenty of other benefits to recommend as well.
3 Benefits Of Distractions Markers 
Increased Safety: Most people don't even realize they need distraction markers on their glass windows and walls until after an accidental collision happens. Not only are these types of accidents common but often cause serious injury. This is why we recommend having distraction marker window film installed on any large, glass, vertical surfaces finishes before anything happens. Not only will this film make the presence of glass obvious in your KC home or business but they could also help you avoid liability. You do your due diligence by in installing distraction marker window film and therefore may not be liable for damages. 
Memorable Branding: Distraction markers are a fantastic way to keep the people in your building safe but in business settings, they can also double for a great marketing tool. Since these types of film can be customized they are a way to make your company's brand extremely visible. For instance, choose to incorporate your logo, phone number or website address on a glass door. This will promote your business, in a highly visible location, while keeping people from accidentally running into the glass.
Improved Aesthetics: For both residential or commercial properties distraction markers are more than just safety measures but a wonderful decor element too. Today's HD films are stunning and come in endless patterns, textures, and colors. Distraction marker films can be customized as well. So, whatever you have in mind can be brought to life on a film. Changing your plain glass features into a beautiful design element to design your space around.    
To learn more about window film distraction markers for your Kansas City home or business, contact us at Window Tint Kansas City today!