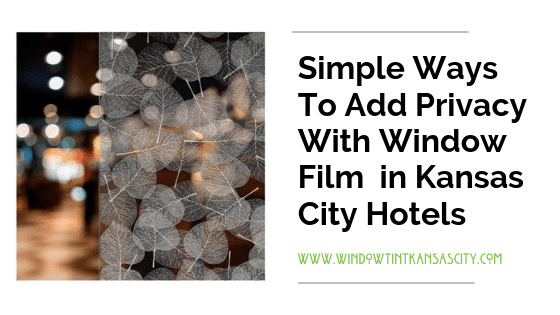 In the hospitality landscape here in Kansas City, hotels really need to be on their game to succeed.  This includes a lot of different areas but really boils down to guest satisfaction. From the time the guest walks through your door to the time, they check out and leave–everything needs to be perfect.  One bad review even for something small could mean a loss of potential clients. One area that is critical, yet often overlooked, is guest privacy. So, how can your Kansas City hotel give guests more privacy to improve guest experience?  The answer is simple and affordable--privacy window film. And below we have listed a few places within a hotel where privacy window film will make a huge difference.
Privacy Window Film In Hotel Rooms
While in their rooms guests already have some privacy behind closed doors.  However, the windows of the room are easily viewed from the outside–especially rooms on ground level or lower floors.  By having window film that is mirrored or more heavily tinted applied, a hotel can really add to the guest experience and satisfaction by keeping them obscured from outside eyes.
2. Privacy Window Film In Lobbies And Shared Spaces
Both a clever and a beautiful way to add privacy to your Kansas City hotel is by using decorative window film on glass surfaces in the lobby and other public spaces.  This allows you to create sectioned off areas for guests to wait or meet others in a seemingly private manner. The best part about this solution is you can really customize the decorative window film and make your hotel space stylish too.
3. Privacy Window Film in Hotel Bars And Restaurants
Just like any guest at any restaurant, hotel guests want a bit of privacy while they eat and drink at your establishment.  This is where privacy window film comes in handy. You can create an environment that is semi-private but still open enough to the outside world to allow your guests to enjoy what is going on around them.
At Window Tint Kansas City, privacy window film is something we excel in.   In fact, we would love to share some of our custom tailored privacy tint solutions for your KC hotel with you.  For more information, privacy or some design ideas, contact us today!