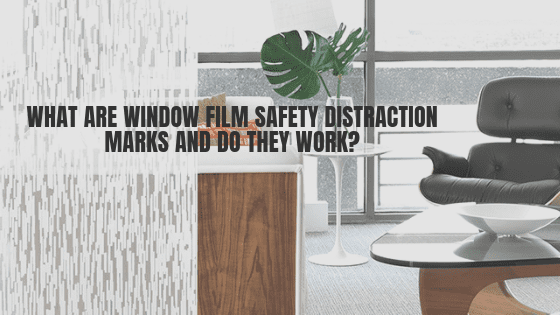 Have you heard of safety distraction marks before? These are actually a commercial building code regulation that is required by law. Safety distraction marks are required on all standing glass elements that may cause an accident if unseen. The safety distraction marks don't have to be in any certain form or design, but they have to be on all glass partitions, doors, walls, and other glass elements. Many commercial properties in Kansas City get custom glass with safety distraction marks etched or frosted on. Window film offers an affordable alternative for this solution.
The Benefits of Safety Distraction Marks for Your Kansas City Commercial Property
Safety distraction marks can help prevent accidents by notifying guests, staff members, and customers of the presence of glass. Safety distraction marks don't require custom glass- window film can be used to accomplish the same goal. Window film is a quick and affordable way to make sure that your commercial property is up to building code. We recommend using decorative film so that you can really make your property look the way you want it to. Customization is available to enhance marketing and branding efforts as well. From custom logo work to unique designs, anything can be used as a repeating pattern for the glass elements of your property.
Work with Kansas City's Preferred Safety Distraction Mark Experts
Window Tint Kansas City is honored to provide leading expertise regarding safety distraction marks. Our team can help you get your property up to code while making the most of this regulation. We have an incredible, comprehensive inventory of decorative film and can print anything you'd like. Work with graphic designers to help improve all of your branding and marketing needs.
For more information regarding safety distraction marks for your Kansas City commercial property, please contact us!