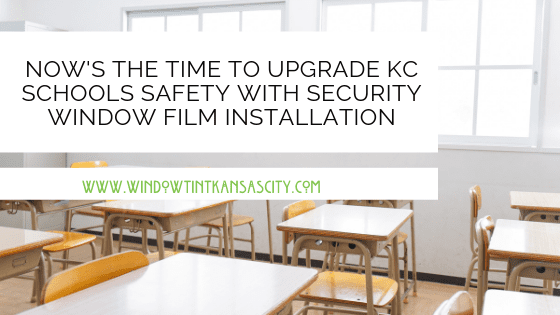 Keeping children safe while they're at school is paramount. We take protecting our Kansas City students seriously at Window Tint Kansas City. Between shooters, bomb threats, and potential natural disasters, it can be an overwhelming concern for parents and the public.  But there is a simple and highly effective way to keep kids safer in school–safety and security window film.
How Window Film Keeps Students Safer At School
Adding protective window film to all of a school's glass windows is one easy way we can ramp up school safety. Although it can have a big impact on the safety of our students and faculty, this fix is fairly simple and inexpensive. It's not bullet-proof but it is an added deterrent and obstacle to an intruder. Safety and security window film is both shatter-resistant and tear-resistant. With its micro-layered technology, our protective window film helps prevent windows from completely shattering in case of impact. This film can protect students and teachers from airborne glass shards by holding the window together better and longer than traditional glass.  The intruder is also delayed from entering the building because the windows don't immediately shatter. This gives Kansas City students and staff an additional 1-2 minutes to escape or protect themselves from an attacker. Protective window film can buy precious time for police to arrive or for security professionals to take action.  It won't cost an extreme amount to improve this area of school security. Replacing glass windows with laminate ones can be expensive and time-consuming. Our installation process is easy and less expensive. We also install it quickly and without advertising so that potential attackers won't be able to find out and adjust their entry strategy.
Window Tint Kansas City For Safety And Security Films For Schools
At Window Tint Kansas City, we know that any additional measures we take to protect our students and their teachers will reap huge benefits. And one of the best ways we can do this is by installing safety and security window film in Miami schools. Contact Window Tint Kansas City today to see how we can improve security from both intruders and natural disasters for your school.