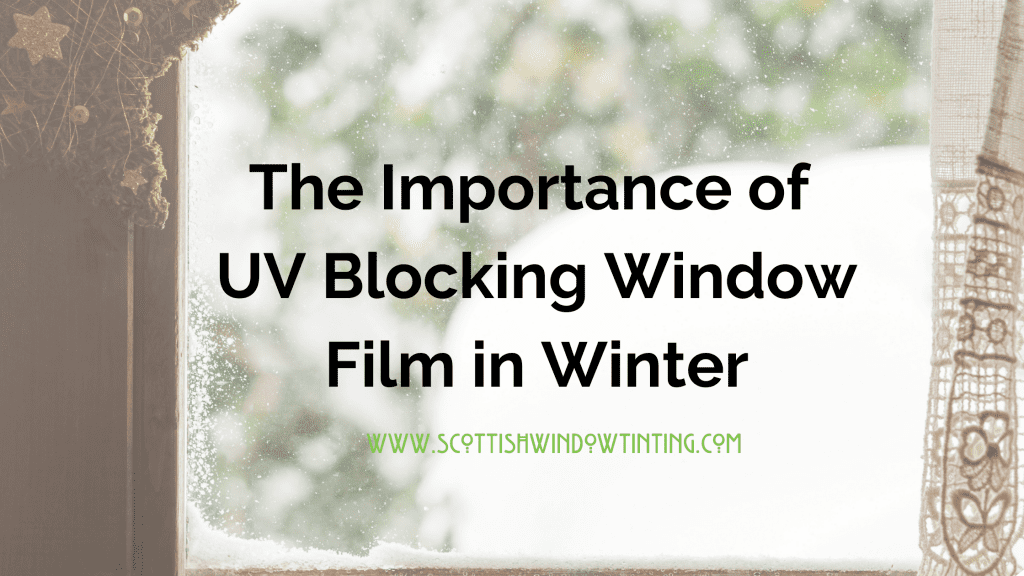 UV blocking window film is mostly a summertime request. This is because–UV rays are associated with the heat that happens in this season. However, it should be on the mind year round–including winter. This is because the need for UV blocking is a year-round problem. It is needed as much in winter as in summer–possibly even more. Find out why below. 
Reason Why You Need Window Film In Winter Too
UV blocking window film works well in summer and winter. The need for UV protection is not seasonal–but rather a year-round affair. Some of the reasons you need UV protection in summer and winter are the same but some, as you will see below are different.   
UV Blocking Window Film For the Reflection of the Sun Off Snow
We get a fair amount of snow here in Kansas City. While it may be pretty, it also brings with it a bunch of issues with it: car accidents and cold to name a few. But did you also know that snow reflects and magnifies glare from the sun? This is why you get snow blindness or a bad sunburn skiing–even on a cloudy day. This is a big reason window film is relevant in the winter. It is great at blocking UV rays in every season. It stops UV rays beaming directly into your home and those from the reflection off the snow.
UV Blocking Window Film to Stop Solar Heat Gain on Glass
It may seem like solar heat gain in the winter would be a good thing but it is not. This is because your home's HVAC systems are engineered to use the ambient temperature in the core of your home near your thermostat to regulate the temperatures. So when the area near your windows is superheated your thermostat cannot account for it–and works harder blasting heat. This creates hotspots near your windows and cold spots in others. This also causes your HVAC systems to work harder and require more frequent repairs. 
UV Blocking Window Film to Curb Harmful Radiation in Winter
Unchecked UV rays beaming into your home at any time of the year–summer or winter–have negative consequences. They are destructive to both people and things. Sunny or cloudy, hot or cold, the effects of these rays are the same–they deteriorate nearly anything they hit. They will both destroy and fade your home's furniture, rugs, curtains and floors, and your skin and eyes. At the very least UV rays reduce productivity and headaches. Therefore, even in winter, you and your family need the protection that these films are designed to provide: an SPF 1000 and blocking 99.9% of harmful UV rays.
For more information on UV blocking window film for your Kansas City home–reach out to us at Window Tint Kansas City today!