Vista Window Film: Elegance & Energy Efficiency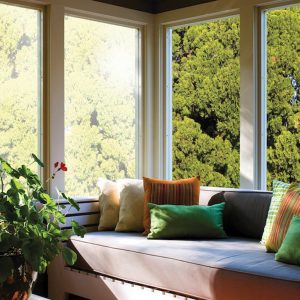 Renowned for their beauty, sophisticated design, and excellent heat and uv blocking capabilities, Vista Window Films offer Kansas City property owners an elegant solution for improving window performance and appearance. Whether your goal is to reduce glare, improve comfort, or lower energy costs by being less reliant on artificial light and air conditioning, these sleek, powerful films can help you accomplish the task. They're perfect for homes and commercial properties a-like.
Why Choose Vista Window Film?
Engineered specially with aesthetics in mind, Vista Window Films have a unique ability to filter and control the intensity of sunlight, creating an elegant, upscale look for any room. These windows films are excellent at providing solar protection, and will help keep the colors of your furniture and flooring from diminishing and losing their vibrant appearance. With Vista Window Film installed, you will instantly feel the difference in the temperature of your building as it works to counteract the effects of harsh heat and sun.
Kansas City's Premier Source for Vista Films
Window Tint Kansas City is proud to be the number one dealer in the Kansas City area that offers installation for Vista Window Films. We proudly serve all corners of Kansas City, from Leavenworth to Overland Park to Independence and Missouri City, as well as the surrounding suburbs. Whether you need Vista Window Film for your business in River Market, office building in the Central Business District, or your home in Mission Lake, we will happily travel to your location to install window film for your building.
Learn more:
Vista-Dual-Reflective-Series-Kansas-City
Vista-Low-E-Series-Kansas-City
Vista-Neutral-Series-Kansas-City
Vista-Spectrally-Selective-Series-Kansas-City
Install Vista Window Film Today
Experience the beauty and excellent solar protection of Vista Window Film for your Kansas City home or business. Call our office today to schedule an appointment for installation.