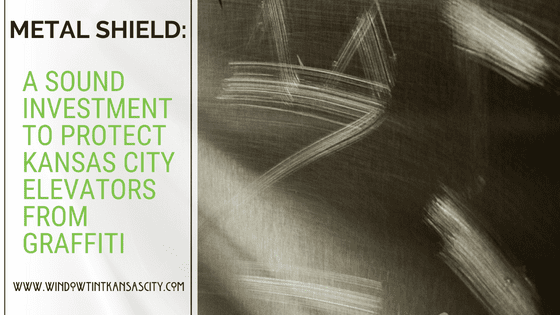 Elevator Graffiti:  An Expensive Problem On The Rise In KC
If you own or manage a commercial space with an elevator in the Kansas City area you have likely dealt with graffiti on some level and no type of vandalism results in the frustration and expense like that of elevator graffiti.  While vandals used to target the exterior windows of buildings, they are now moving to areas where monitoring is hard and graffiti is difficult and more expensive to remove, like elevators. This allows for their marks to stay longer because, as you well know, when metal panels on an elevator are marked–it is never a simple ordeal.  Each affected metal panel must be removed, replaced and buffed/or to match the surrounding area. This takes a lot of time and a whole lot of money. However, the Graffiti Shield company, whose research and product offerings are constantly evolving to thwart vandals at every turn, recently launched a new line of products called Metal Shield that deal with elevator graffiti like never before.
How Does Metal Shield Protect Elevators From Graffiti
As mentioned, elevators are notoriously difficult to monitor.  Meaning when someone wanting to disfigure your property enters into it–they rarely hold back.  Elevators get marked in all sorts of ways: slap stickers, acid graffiti, scratch graffiti and the good old fashioned spray paint or markers.  Traditionally the only way to deal with the problem of elevator graffiti has been reactive–in response to the damage. However, Metal Shield puts the power back in your hands and provides a way for you to protect the metal surfaces in your elevator before or after an attack.  This is because metal shield is a 6-mil thick graffiti abatement and obscuring film that installed over an existing metal surface as a precautionary measure before vandals strike or as a remediation tactic to cover already defaced surfaces, replicating their original, clean appearance.  Regardless of whether you decide to use graffiti shield before or after graffiti becomes a problem, the results are the same, this revolutionary graffiti abatement film acts as a sacrificial layer which is easily, and cost-effectively removed and replaced once defaced. The overlying concept is to obscure existing graffiti while protecting the surface from another attack penetrating the surface again.
Watch the video below for more information on Metal Shield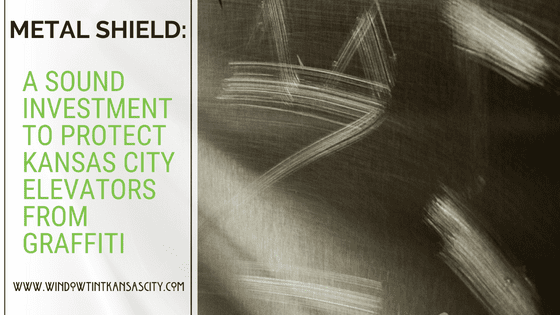 Window Tint Kansas City For Your Elevator Graffiti Solution
Since elevator graffiti is so difficult to combat and always means extended downtime for repair and exorbitantly high costs to do so, as a smart Kansas City commercial investor taking measures to remediate and protect your elevators is just good business.   Contact us at Window Tint Kansas City for more information on Graffiti Shield products and begin combating vandalism on your terms.