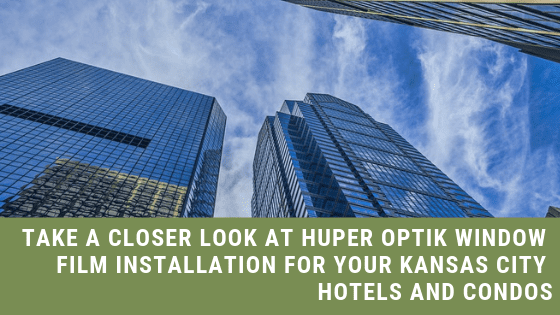 These days, "going green" is all the rage, and it's easy to see why. There are considerable advantages to making your property more energy efficient, including significant cost savings. But investing in expensive solar panels and upgrades isn't something every business can afford to do.
Fortunately, there's a much more cost-friendly way to make your building energy efficient. Experience the benefits of "going green" without breaking the bank with window film installation. Kansas City hotels and condos can install Huper Optik Window Film to improve the energy efficiency of ordinary windows and save up to 30% on energy costs each year.
Why Window Film Installation?
It's true, there are many products out there today that can make your building more energy efficient. But what manufacturers of these products don't tell you is what kind of ROI you'll receive on your investment. Yes, triple or double pane windows will save you money, but not enough to make the investment worth it.
Window film, on the other hand, is a relatively affordable upgrade and has a speedy ROI. In just 36 months, you could get all your money back depending on how much you've saved. Window film installation for Kansas City condos and hotels is just a choice that simply makes sense.
About Huper Optik Window Film
Huper Optik Window Films are one of the most reliable and durable window films available today. Don't be fooled by those knock off, flimsy window films that promise unreasonable results at their low cost. With Huper Optik, you can rest assured that your money will be well spent – and your customers will be happier too!
Huper Optik Window Films use nanoceramic technology to regulate heat transfer. Once you install them for your hotel, condo buildings, or business, you'll notice an immediate difference in the comfort of your building. And the low energy bill you get at the end of the month will be sure to make you smile.
Schedule an Appointment for Window Film Installation
Experience the power of Huper Optik Window Film installation for your Kansas City hotel or condo. Call our office today to book your appointment.