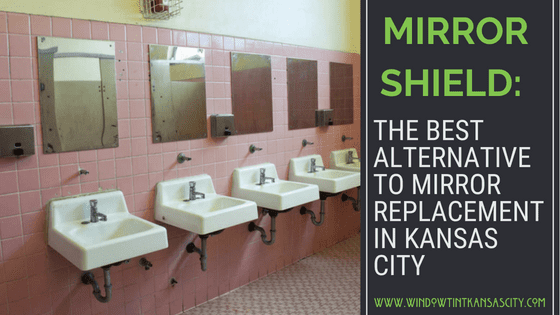 Save Money On Mirror Replacement After Vandalism With Mirror Shield
Mirror Graffiti–we have all seen it on bathrooms in Kansas City restaurants, schools, malls, stadiums and nearly every other area that has a bathroom in it.  It is as ugly as it is common and, as it were, it is impossible to remove. That's right, once a mirror is marked with scratch with graffiti scrawling, the mirror is pretty much ruined.  This is because, in order to remove the markings, one must actually sand or scratch the mirror even further, resulting in even less clarity and making it a moot point. The mirror will never be the same and, before recently, the two options facing commercial building owners and property managers were to leave the graffiti on or replace the entire mirror–neither choice a very good option.  However, the Graffiti Shield company changed the game by finally bringing a viable solution to mirror graffiti called Mirror Shield–a cost-effective way to battle existing or repeat vandalism of the mirrors in your Kansas City commercial property.
What is Mirror Shield And How Does It Protect My Kansas City Property?
Mirror Shield is a fully reflective thick film that is placed over your existing mirrors to protect them from graffiti or obscure existing graffiti.  It is 100% opaque and fully covers any mark on your mirrors–giving them a pristine look once more. Since mirrors are often found in restrooms which are hard to keep an eye on,  vandals have an infinite amount of time to damage to the surface in any way they see fit: scratching, etching, stickers, other forms of graffiti. Since once a mirror is vandalized it is rendered useless and needs to be replaced, mirror graffiti can be an expensive problem.  However, with mirror shield, the defaced surface is simply covered with a new mirrored film for a fraction of what total mirror replacement would cost and in less than an hour. Meaning your bathroom will be looking good again in less than a day. A fast response to graffiti dramatically lowers the likelihood it will happen again, as vandals typically move on to a target where their graffiti will stay longer.  and will typically have to be replaced. Like other Graffiti Shield products, Mirror Shield can't be pulled off by the general public, but by a trained specialist, like ours at Window Tint Kansas City. And Mirror Shield never leaves any adhesive residue behind.
Watch the video below for more info on Mirror Shield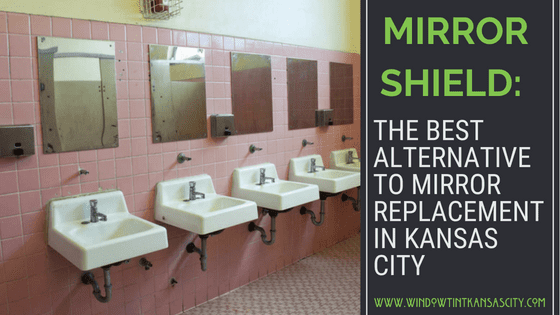 Window Tint Kansas City For Mirror Graffiti Removal
Here at Window Tint Kansas City, we are brand certified to install Mirror Shield and other Graffiti Shield products here in KC.  We also can also offer you custom Graffiti Shield solutions for unique areas and flat surfaces that are harder to protect. Contact us today for a free consultation and to learn more about our revolutionary Graffiti Shield line.