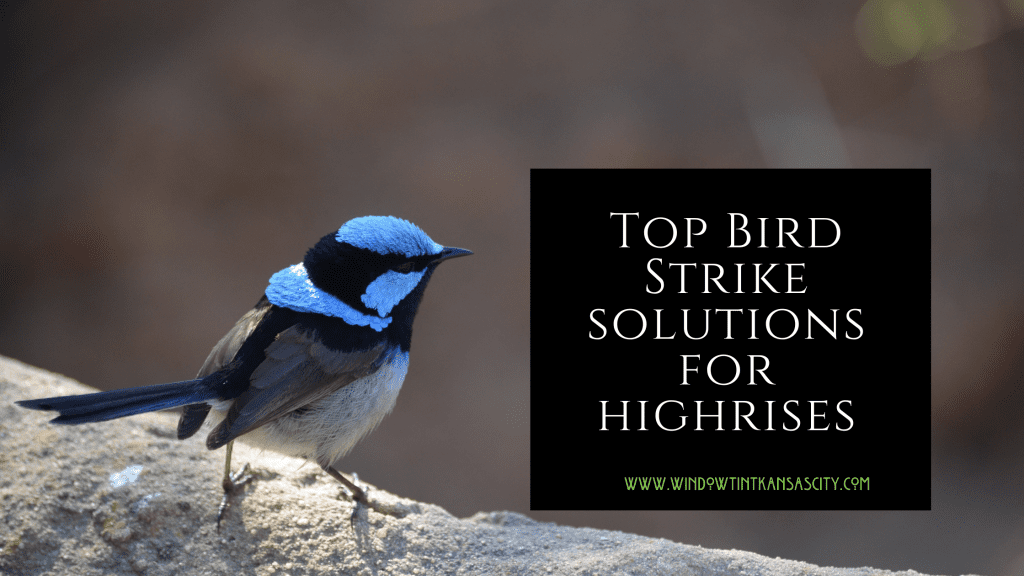 Bird collisions are actually very common on tall urban buildings like we have here in the KC area.  Sadly, they are gruesome events.  They cause deadly injuries to birds and expensive repairs for commercial building owners. However, there are ways to avoid these fatal run-ins–and the most effective of these are bird deterrent window films. 
Ways to Make Windows Visible to Birds
The way to keep birds from flying into your windows is making them visible to birds.  It really is that simple. You see, birds cannot distinguish the reflection of the sky from the sky itself–and they end up flying into them. Below are a few ways to make your windows apparent to keep birds safe.
Bird Strike Decals to Prevent Bird Strikes
Stickers and decals can be used by high rise building managers and owners to stop bird collisions.  Decals are fairly effective because they disrupt the reflection of open sky to an extent.  But, they only work if they are spaced close enough together that birds do not try to fly through them–and with decals, this is usually not the case.   Bigger birds will steer clear of your Kansas City skyrise windows but probably not smaller ones. 
Screens and Netting to Avoid Bird Strikes
Mosquito screens applied to the exterior of windows break up the reflection of the open but are nearly impossible to affix to very tall buildings..  Netting is another option that keeps birds from actually hitting the windows of highrises,  bouncing them off the netting instead. However, this solution is incredibly expensive, distorts the aesthetics of your building, and still could injure birds. 
Bird Strike Window Film to Prevent Bird Collisions
The best bird strike prevention for your Kansas City highrise windows is bird deterrent window film. It is simply the most effective method because  
It is nearly invisible to the human eye

It stops the most bird/window collisions

It is the most Cost-effective and installed in one day
If keeping birds from flying into your Kansas City home's windows without altering the appearance of your windows is your goal–bird deterrent window film is the solution you are looking for. 
Contact us at Window Tint Kansas City for more information on bird deterrent film options.