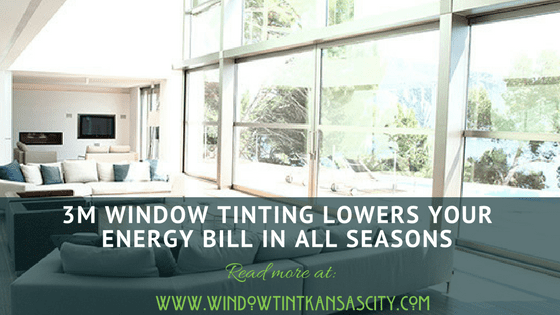 3M Window Tinting on your Kansas Residence Can Lower Your Energy Bill in All Seasons
Energy conservation is becoming a rule rather than an exception among homeowner.  One of the biggest reasons that people want to be more energy efficient in their homes, here in Kansas and across the United States is pretty straightforward too–they want to save money on utility bills.  Energy costs have been on an upward trend for decades now and homeowners increasingly feel pressure in their wallets to stabilize both heating and cooling bills–especially in places like Kansas where we have vastly different seasons with both highs and low temperatures.  While some energy efficiency methods can get pricey, one energy conservation method for your Kansas City home that is relatively affordable and will save you more than enough money to justify its expense is 3M Thinsulate window film.
The Facts About 3M Thinsulate Window Film For All Four Kansas City Seasons
When it comes to big savings on utility bills, 3M Thinsulate window film leads the pack.  What you may not realize is, over 30% of the air you pay to heat and cool escapes right out the glass of your windows. Because of this, the application of 3M Thinsulate saves you money year-round and pays for itself in as little as 3 years.  Looking to stay cooler in the summer? 3M Thinsulate solar reflecting technology will block the sun rays.  Want your Kansas City home to be warmer in the winter?  3M Thinsulate insulation technology will help you retain more of the air you pay to heat and cool every day than nearly any other energy conservation technology.  In fact, this specially engineered,  Low-E window film increases insulation value enough to make a single-pane window perform like double-pane one and a double-pane perform closer to triple-pane. The benefits don't end there either.
Other 3M Thinsulate Window Film Benefits Include:
Strong heat rejection to provides additional comfort and energy savings in the summer months.

High visible light transmission with a neutral appearance to help maintain a home's existing appearance.

Blocks a number of harmful UV rays that cause fading, helping to extend the life of furnishings.

Includes a comprehensive warranty from 3M
Take control of your environment with 3M Thinsulate window film today by contacting us at Window Tinting Kansas City for a free consultation!