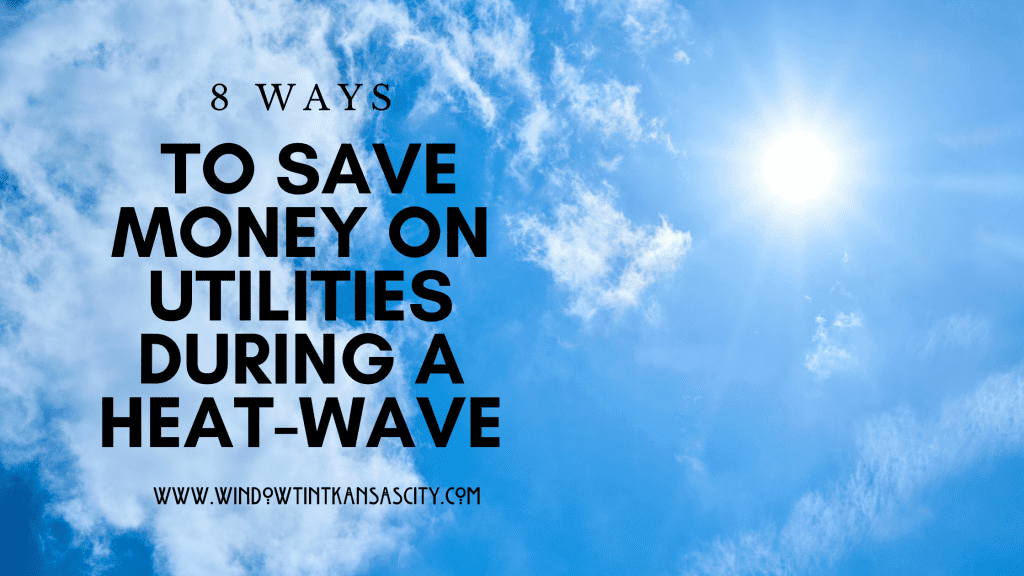 If this KC summer seems hotter than normal–it's probably because it is!  Also, we are all spending a lot more time at home in the middle of a pandemic–and that doesn't help.  These two factors likely have driven your home cooling bills through the roof. And, you are not alone! This is why we at Window Tint Kansas City made the list below on how to save the most money on cooling as possible during these uncharted times.
How to Reduce Energy Bills in Summer
Keep an Eye on Your Thermostat: 

During summer it is important to keep a close eye on your thermostat.  If you have central a/c a 78-degree setting is actually the best setting when it comes to your Kansas City home being energy efficient. In fact, it will save you 20% more than a lower 72-degree setting!

Use Fans in Every Room: 

Setting your thermostat to 78-degrees still leaves homes a bit warm. To combat this use fans in every room possible works the same way as wind chill–it lowers the feel of the ambient temperature quite a bit. 

Open the Windows: 

You don't want to open your windows during the day when the temperature is hot and let out the air you paid to cool. However, after an evening rainstorm or on one of our cool Kansas City nights–a fan and an open window will be less expensive than running the a/c.

Stop Using Incandescent Light Bulbs: 

Although incandescent bulbs only add a little heat to your overall home temp–every small corner you can cut will save you money on cooling bills during the summer. Using LED cuts back on ambient heat and much less energy in general.

Lower the Use of Heat Generating Appliances: 

Dryers, ovens, dishwashers, and microwaves all add heat to the internal temperature of your Kansas City home. During the summer, you will save money on cooling by choosing to do more chores outside–like grilling and line hanging laundry. Plus grilled food is delicious and line-dried laundry smells so fresh!

Maintain Your Cooling Equipment: 

A/C and central air units need to work harder when filters are clogged or covered. dust and grime. Cleaning your units regularly and making sure repairs are done on time can cut cooling costs by 10-15%. 

Have Window Film Installed: 

One of the best ways to lower cooling bills in the summer and save loads of cash in the winter too–is by having energy-efficient window film for your Kansas City home. It has a slew of other benefits that come along with it too–read about those in our window film benefits blog here.

Keep Curtains and Shades Closed: While window film is the best way to lower cooling bills and reducing heat in your home. However, combining this technology with drawn curtains and closed blinds will further reduce solar heat gain–especially on these 100 degree days we are seeing lately in Kansas City
While these are a lot of strategies to think about–they are a sure-fire way to save the most money on your utilities in the heat of the Kansas City summer.  Window film is likely one of the most effective of all of these solutions. Contact us here at Window Tint Kansas City for more details and to get pricing.