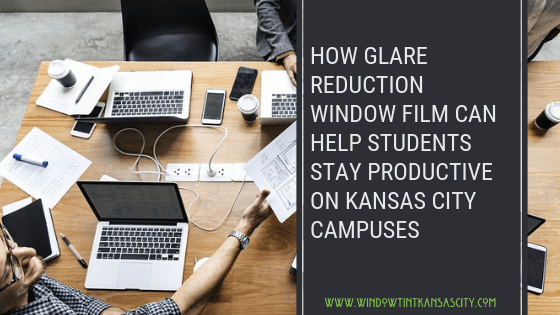 Glare Reduction Window Film For Better Schools In Kansas City
Here in KC we are proud of our schools and always doing things to improve them.  This is because at school is where learning happens and when students are in the right environment where they can concentrate and are comfortable, they simply do better. However, schools environments, for any number of reasons can be extremely distracting to our students.  One such distraction is glare and solar heat transfer from windows; bothers and annoys students here in Kansas City from Donnelly College to Columbia College. However, this problem is easily removed or at the very least curbed through installing glare reducing window film. Find out more below.
Reducing Glare Makes  Students More Productive

Study after study has shown that glare kills productivity in schools, universities, and colleges across the US.  Kansas is no exception. When the element of glare is taken away students are better able to focus what matters most–learning.  There are three main reasons why window film solves these issues.


Reducing Glare Stops Strain on Students Eyes

Unfiltered Natural light is tough on the eyes and its overwhelming brightness puts a lot of strain on them, especially in a classroom setting.  Watering and blurring are common and the sun rays, over time could even cause loss of vision and some cancers. By having window film applied, schools control a massive barrier to learning–distracting glare. This is because glare reducing window film filters natural light while at the same time blocking the harmful UV rays that will damage eyes.  All and all this means students are able to work and concentrate longer with less eye strain and discomfort.


Reducing Glare Makes Computer Monitors More Viewable

When the rays of the sun are not effectively blocked they interfere with viewing of computer monitors. Even shades and curtains allow in beams of light that while out screens.  Since almost all students carry and take notes on laptops, with excessive glares, students simply cannot get their work done. Glare reducing window prevent glare from affecting screens by filtering it to make it softer, changing the angle of light and/or blocking it all together.  Even at times of the day with the most glare, or in southern facing windows, schools in Kansas City that apply glare reducing window film, keep students from having to struggle to see their screens.

Reducing Glare Makes Students More Comfortable

If you have ever sat in class with the sun relentless beating down on you through windows, you probably can see why it is hard to concentrate under these conditions.  Glare reducing window film prevents this type of solar heat gain and transfer so students can learn unperturbed by excessive heat. In fact, window film blocks 97% of the sun's heat-producing infrared light, keeping temperatures comfortable and protecting students from harmful UV rays.  When visible light and the infrared light stay in check, students have a much better chance at learning undistracted and ultimately educational success.
Read more on this in the glare reducing windnow film case study below:
For more information on glare reducing window film for your Kansas City school, contact us at Window Tint, Kansas City today