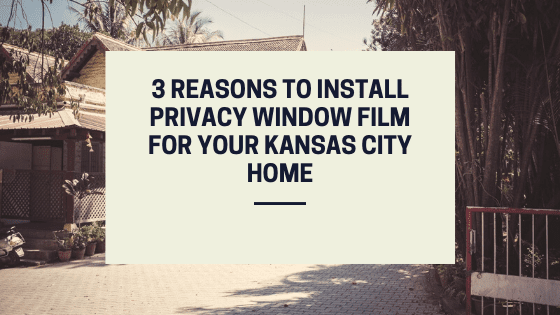 Staying at home more regularly can really open your eyes to some property concerns that you weren't previously aware of. Kansas City homes are experiencing privacy concerns now that many more of us are having to stay home and work from our residences. There are a number of different privacy solutions available but finding an option that keeps your place feeling welcoming and bright can definitely help improve stress levels. Privacy window film delivers an effective way to block unwanted views into your home for better comfort and productivity.
The Benefits of Privacy Window Film for Kansas City Homes
Ideal for unique windows: Privacy window film is ideal for transoms, sidelights, skylights, and other non-traditional windows that window treatments don't fit. Make sure you block unwanted views from neighbors and onlookers through your front entrance and hallways windows.
Maintains natural sunlight: Window treatments are great for privacy but require sacrificing natural sunlight. Privacy window film delivers a wonderful way to obstruct unwanted views while maintaining natural sunlight into your home. Sunlight can really boost your mood and help reduce stress. Privacy film maintains optically clear views from the inside out.
Transform your exterior: Privacy film is available in countless hues, colors, and finishes. Improve the exterior aesthetic of your home while improving comfort, safety, and function.
Work with Kansas City's Leading Privacy Window Film Contractor
Window Tint Kansas City is honored to be the leading privacy window film contractor serving the Missouri/Kansas area. Our team is available during normal business hours and is offering virtual consultations. With our comprehensive collection of privacy window film options, you'll be able to find the right one for your home. We can also help improve energy efficiency, UV protection, and more.
For more information regarding privacy window film for your property, please contact us!