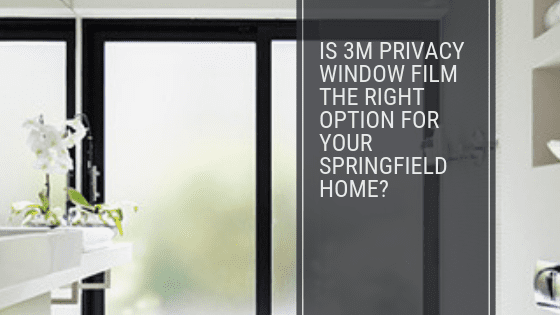 Springfield residences can face all sorts of privacy issues like any other city in Missouri. Springfield homes can have concerns with exterior privacy– perhaps they live in a community where the homes are built very close together or they have a first-floor condo that's within street view on a very public, busy road. Interior privacy concerns are also prominent, requiring a bit of seclusion for home bathrooms, offices, and any area of your home that you'd appreciate some privacy in. 3M privacy window film is available for solving both exterior and interior privacy concerns for your Springfield home.
Benefits of 3M Privacy Window Film for Your Springfield Home
3M exterior privacy tinting provides the utmost privacy from all angles and views for your home. With multiple reflective qualities, hues, and color finishes, homeowners can find optically clear films to highly reflective, modern-looking privacy films from 3M. These exterior privacy solutions completely obscure views from outsiders into your home while ensuring homeowners can still appreciate their view from the inside out. 3M also has a beautiful line of privacy decorative window film that can be installed in home bathrooms, showers, offices, partitions, and any area of your home that you'd like to add seclusion to. These timeless films can be exchanged easily but are durable enough for long-term decor.
Installation Process for 3M Privacy Window Film in Springfield Homes
Window Tint Kansas City is the leading source for 3M privacy window film for residences across the Springfield area! We provide proper installations in order to ensure manufacturer product warranties are valid in addition to offering our limited workmanship warranty. Our installations are always timely and considerate of your time. We utilize C-Bond for quicker cure times and improved product life.
For more information regarding 3M privacy window film for your Springfield home, please contact us!