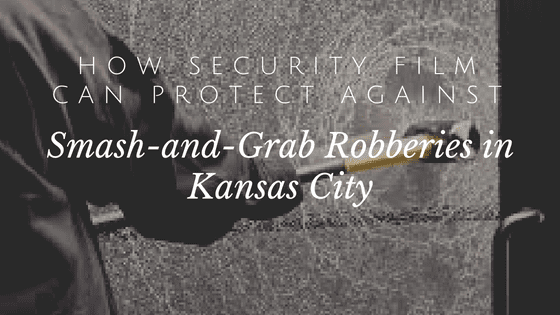 Smash-and-grab robberies area definite issue that occurs throughout the Kansas City area. Smash-and-grabs can happen in both residential and commercial properties, making it extremely difficult to find proactive measures. Security systems can cost a fortune and often times don't stop these burglaries due to the quickness of the event. Police often arrive long after the burglars are long gone. Fortunately, security film delivers a budget-conscious solution for both residences and businesses to protect their valuables from smash-and-grab burglaries.
Benefits of Security Film for Your Kansas City Home or Business
Kansas City homes and businesses can utilize security film for its plethora of benefits. Security film is the most effective deterrent for smash-and-grab robberies due to the fact that it holds broken glass fragments together after impact. This innovative technology makes it considerably difficult for assailants and burglars to gain access to your property. The time and noise caused by a robber trying to gain access to a security film installed window or glass door will bring a lot of attention, usually deterring the criminal. Additionally, security film provides comprehensive protection for both building occupants and valuables during natural disasters, break-ins, freak accidents, and more. Security film also presents energy efficient and UV blocking options to help property owners save money.

Installation Process for Security Film in Kansas City Homes and Businesses
Window Tint Kansas City is renowned for our timely, worry-free installation process. Property owners can rest assured knowing that we're the leading security experts in the area and can provide in-depth product knowledge and experience. We have discreet installation processes to further protect your property. We also utilize leading glass strengtheners and primers to optimize product effectivity and longevity.
For more information regarding safety and security film for your Kansas City home or business, please contact us or call: (816) 875-3518