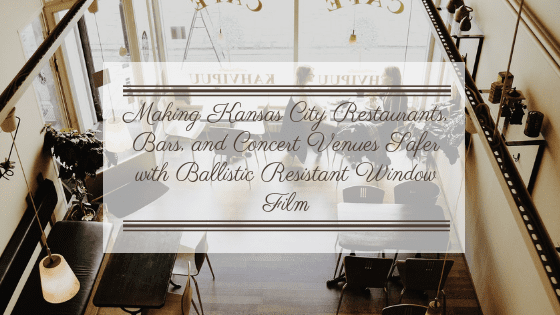 When it comes to safety and security, commercial properties like restaurants, bars, and concert venues have liability for their patrons and guests. In these higher risk environments where people are consuming alcohol, countless incidents can occur. Finding the right preventative measures that are affordable and effective can make all the difference for protecting your customers. In order to avoid legal action, it is pertinent for Kansas City business owners to implement these solutions as soon as possible. Ballistic resistant window film delivers the best safety measure for these types of properties.
Advantages of Ballistic Resistant Window Film for Your Kansas City Entertainment Property
Ballistic resistant window film is perfect for these higher risk property types. With a high impact resistance that can address gunfire, break-ins, burglaries, explosions, natural disasters, freak accidents, and more, ballistic resistant window film is the best preventative measures that can save lives and significantly reduce the risk of injury. This security window film system is comprised of a glass strengthening agent called C-Bond, an attachment system, as well as layers of security film. Ballistic resistant window film bonds glass fragments together after impact, mitigating glass hazards while also making cleanup easier. With quicker cleanup times, businesses can enjoy minimized operational downtime.
Security Assessment for Ballistic Resistant Window Film in Kansas City Entertainment Properties
Window Tint Kansas City is honored to be the preferred ballistic resistant window film installer in the Kansas City area. We've worked with countless restaurants, bars, and concert venues in improving their security measures. Our security team provides a comprehensive security assessment of your commercial property in order to provide the best product recommendations, cost-benefit analysis, property vulnerabilities, tactical installations, and estimates. Get the most out of your budget with this highly effective solution.
For more information regarding ballistic resistant window film for your Kansas City entertainment property, please contact us!