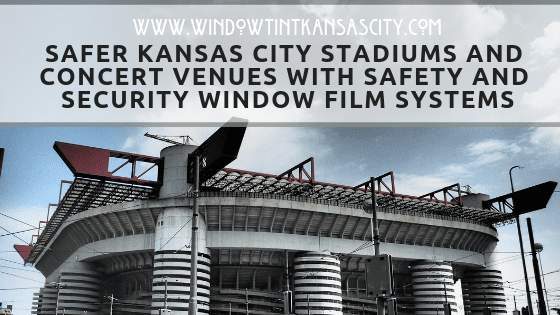 Why Large Kansas City Venues Need To Protect The Fans And Concert Goers
Every large venue knows that the fans are the most important part of their business model. And, since this is the case, making sure that your venue is as safe as possible is a very big deal. Not only does it ensure that those most important to your stadium or concert venues success are out of harm's way–but it also frees you from the potential of large and costly lawsuits should someone get hurt. So, how does a concert hall, stadium or similar venue make their building safer for concert goers and/or fans? The answer is safety and security window film. It is a powerful technology that makes the buildings we live, work and play in, here in Kansas City, safer places to be and reduce damage when threats of many natures occur, as they at some point or another eventually do/
How Does Safety And Security Window Film Make Kansas City Concert Venues and Stadiums Safer?
Glass in buildings can be incredibly deadly when untreated. This is why much of the glass in public places is tempered or treated with window film to make it the equivalent of tempered glass. When treated with safety and security film, glass, rather than breaking into hundreds of tiny fragments, stays in place rather than flying around and hurting bystanders. When window film is applied using C-Bond adhesive and installed in specialty safety frames, it becomes even more impervious to exploding–to the point of stopping multiple bullets or even a bomb. This means that glass in concert venues with high-tech safety and security window film benefits stadium owners and attendees in at least three important ways. It an invisible protective layer that helps keep broken glass in place and people and your assets out of harm's way.
Safety and Security Window Film benefits include:
Prevents Crime And Mitigates Attacks From Bombs And/Or Guns
Protects from Natural Disasters
Prevents Serious Glass Related Injuries From Slip And Falls Accidents
If you own or manage a stadium, concert hall or other venues in Kansas City that caters to large groups of people, safety and security window film should be a serious consideration as a way to keep your patrons safer and your establishment free from needless injury and possibly lawsuits. Contact Window Tint Kansas for more information today!