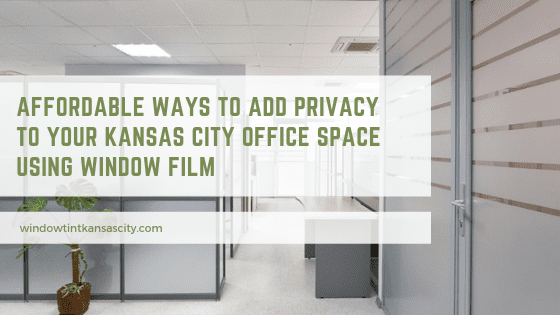 Having a more open office, as opposed to cubicles or individual offices, can make it easier for employees to collaborate with one another. An open office also creates trust because of the feeling of transparency. But the only downside is that privacy is limited.
But that doesn't mean you have to sacrifice the open feel of your office in order to get some privacy. Your Kansas City business can use window film to create privacy without sacrificing aesthetics or functionality.
Cost of Frosted/Privacy Window Film for Offices
Window film is a great way to create privacy in an open office. Not only does it look beautiful, but it's also affordable. The cost for decorative/privacy window film usually ranges from $6-12 per square foot. It's much cheaper than blinds and etched glass.
Types of Privacy Window Film
In addition to being super affordable, privacy window film provides Kansas City businesses with a lot of freedom in terms of design. There are literally hundreds of different styles of privacy window film for offices, and some of them are truly amazing. Here are a few examples:
Cloaking Film – Casper Cloaking Window Films create privacy for conference rooms by blocking LED light emitted from digital screens, protecting confidential information.
Frosted Film – Frosted films are great because they're elegant, yet subtle. With a frosted film, you can easily create privacy without diminishing the open feel of your open.
Patterned/Textured – Patterned and textured window films are also a great choice for offices because they add depth and variety.
Different Ways to Use Privacy Window Film in Your Office
There's really no restrictions or rules about the right way to use privacy window film. Generally, any flat, hard surface can be fitted with privacy film. Here are some of the most popular places businesses put privacy film in their building:
Conference rooms
Glass room dividers
Locker rooms and bathrooms
Lobbies and entrances
Employee break rooms
Fitness rooms
Storage closets and cabinets
Install Privacy Window Film Today
Get the privacy your office needs today. Call Window Tint Kansas City to schedule an appointment to have privacy window film installed for your Kansas City building.