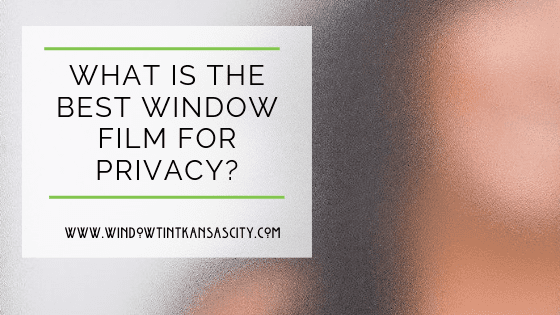 Privacy window film is one of our most common jobs here at Kansas City Window Tinting. This is because privacy window film is affordable and gets the job done. It is a way to get the styel and function of real glass–without the expense costs. Besides being affordable window film for privacy is a fast.  In fact– is can be done in as little as an hour. In this short time, our installers will transform your Kansas City home's bathroom, entryway or any other area into a private to semi-private one. Plus, privacy window film gives you similar benefits to regular window film like energy-efficiency and UV protection. Finally, there are several lovely patterns, textures, and colors to choose from. But, what style is right for you?  Only you can tell but below we have listed some of our favorites.
BEST PRIVACY WINDOW FILM PATTERN FOR YOUR KC HOME
We come across a ton of gorgeous patterns bein in the window film biz. But easily one of our favorites is the Organic Cotton pattern. It seems to go with any decor. In the modern world films cna help you can accomplish almost any look you are trying to get. The classic criss-cross pattern that blocks out nearly any glances from the outside but still lets in a lot of natural light into your Kansas City home.
BEST TEXTURED WINDOW FILM FOR YOUR KANSAS CITY HOME
Textured window film for home decor works wonderfully and serves a purpose– privacy. It is soft and makes for an elegant touch to any part of your Kansas City home. Plus, it is much less expensive than actual textured glass but with the same power to transform. Matrix White Matte epitomizes the impact of window film on modern style and function. It gives the benefits of window film but also the look of actual textured glass. 
BEST LIGHT DIFFUSING WINDOW FILM FOR PRIVACY IN YOUR KANSAS CITY HOME
When buying privacy film, be sure to take advantage of one of its major benefits–it doesn't block out natural light. This is what light-diffusing films are perfect for. They let in abundant light into your KC home, but still give you plenty of coverage. Fine Crystal Frost is a gorgeous light-diffusing film and mimics the look of actual frosted glass but you will definitely know the difference when you see the price. Since window film has a significantly lower cost than real glass.
Window Tint Kansas City For Your Privacy Window Film
These are just a tiny sampling of the pattterns available.  With window film, the sky is truly the limit when it comes to decor. For more information on these films or to start customizing a decorative film of your own–reach out to us today!