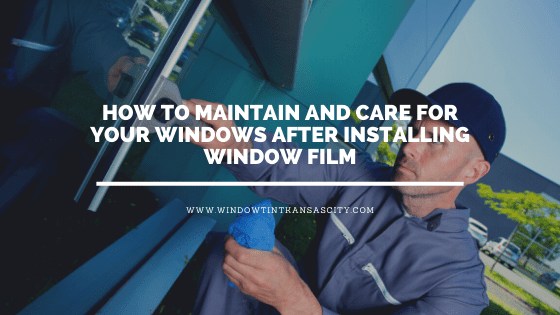 Window tinting provides so many great benefits, from incredible energy savings to steadfast security and alluring decor. It's a smart investment for residential and commercial properties alike, including schools, offices, retail stores, apartments, and single family homes.
If you're installing window film for the first time, you probably have some questions about after care and maintenance. The good news is, there's not much to worry about. Window film maintenance is very minimal and straightforward. With just a little bit of effort, your window film can last for ten to fifteen years or longer! Here's what you need to know.
Window Film Maintenance: The Basics
One of the biggest perks of installing window film is that there's very little maintenance involved. With blinds and curtains, you have to spend time vacuuming and cleaning them on a regular basis because the cloth materials collect dust so easily. These items are also easily damaged and expensive to replace. But with with window tint, all you have to do is wipe down your windows with a cloth every once in a while. It's that simple!
Getting Started
After installing window film, there is very little care involved. All you have to do is check your windows for dust every once in a while and remove it when it builds up. Doing this will keep your windows clear and shiny. After about 30 days, your film should be fully cured and dried, and is safe for cleaning.
To get started, find a soft microfiber cloth that you can use for dusting. Then, gently swipe the cloth across the film to remove the dust. And that's it! You don't need to vacuum or use any special tools or cleaners. It's very simple.
Why Are My Windows Cloudy?
It's normal for windows to be cloudy for a while after installation. This is because your window film is undergoing a curing process. The primer is settling, drying, and bonding with the glass to keep your film in place. This should go away within a few weeks. During this time, try not to tamper with or clean the film. If the cloudiness persists, give our team a call. We'll be happy to come out and take a look!
Learn More
Do you have questions about window film maintenance? Give our Kansas City team a call! We'd be happy to chat with you and discuss any questions or concerns you may have.