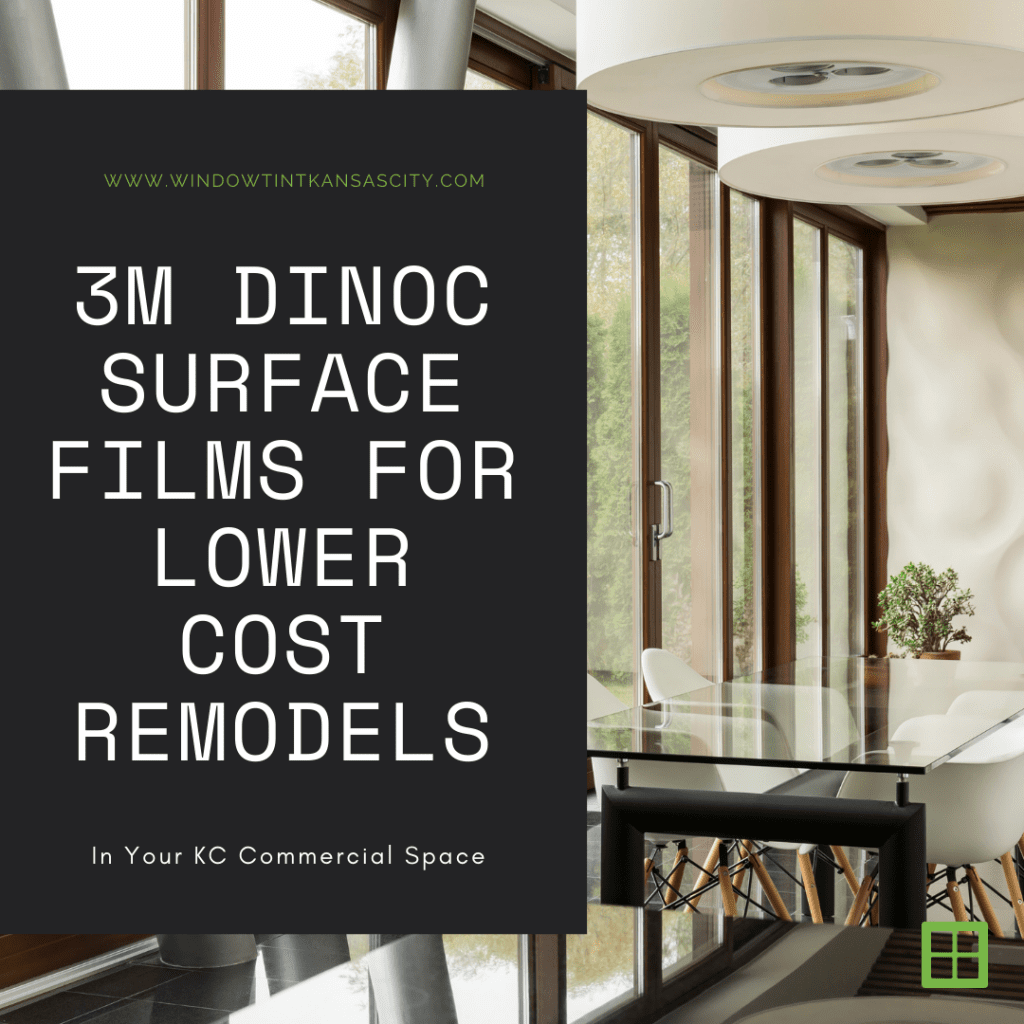 Every business owner here in the Kansas City area and the US at large knows that right now is time to conserve cash.  While things are starting to look up the threat of a recession looms large.  The fact of the matter is–no business wants to (or should) invest in a big commercial remodel at this point.  But there is the fact that keeping up appearances in your commercial space is important.  It is the key to success as a landlord and crucial to the image of your tenants.  DI-NOC Architectural Design Films from 3M should therefore be a real consideration as a way to improve your commercial interiors without breaking the bank.
What are DI-NOC Architectural Films?
Most people who hold commercial investments don't exactly know what 3M™ DI-NOC™ Architectural Films are or what they do.  That is our job here at  Window Tint Kansas City.  We use these films all the time to renovate commercial spaces small and large.  They are amazing surface films used for refinishing architectural features in commercial spaces.  These are areas of your building that have faux or real finishes–like walls, doors, elevators, stairwells hallways.  Usually, they are wood or metal looking but sometimes just areas of the walls covered in wallpaper or painted.  These spots get scuffed, scratched, dinged, and dented every day.  This is just normal commercial wear and tear.  This leaves them looking old, battered, and unattractive.  DI-NOC films go over this damage and cost only a fraction of replacing something like wood or metal panels.  In a time like right now, when every dollar counts, this is a great investment! 
Why Use DI-NOC 
As you already know–DI-NOC is incredibly cost-effective.  But it also comes in several attractive wood grain colors, metal finishes, and stunning decorative designs.  So you will probably be able to find a surface film that matches the finish or maybe consider upgrading to something totally new!  Your tenants will thank you when you keep interiors looking new–often time in the form of a newly signed lease.  Also, since these films are lightweight and self-adhering they can easily be applied to almost any existing substrate.
The business world will be opening up again soon to foot traffic.  Don't miss this chance to revitalize your commercial space! Call today for more information on DI-NOC Architectural Films.