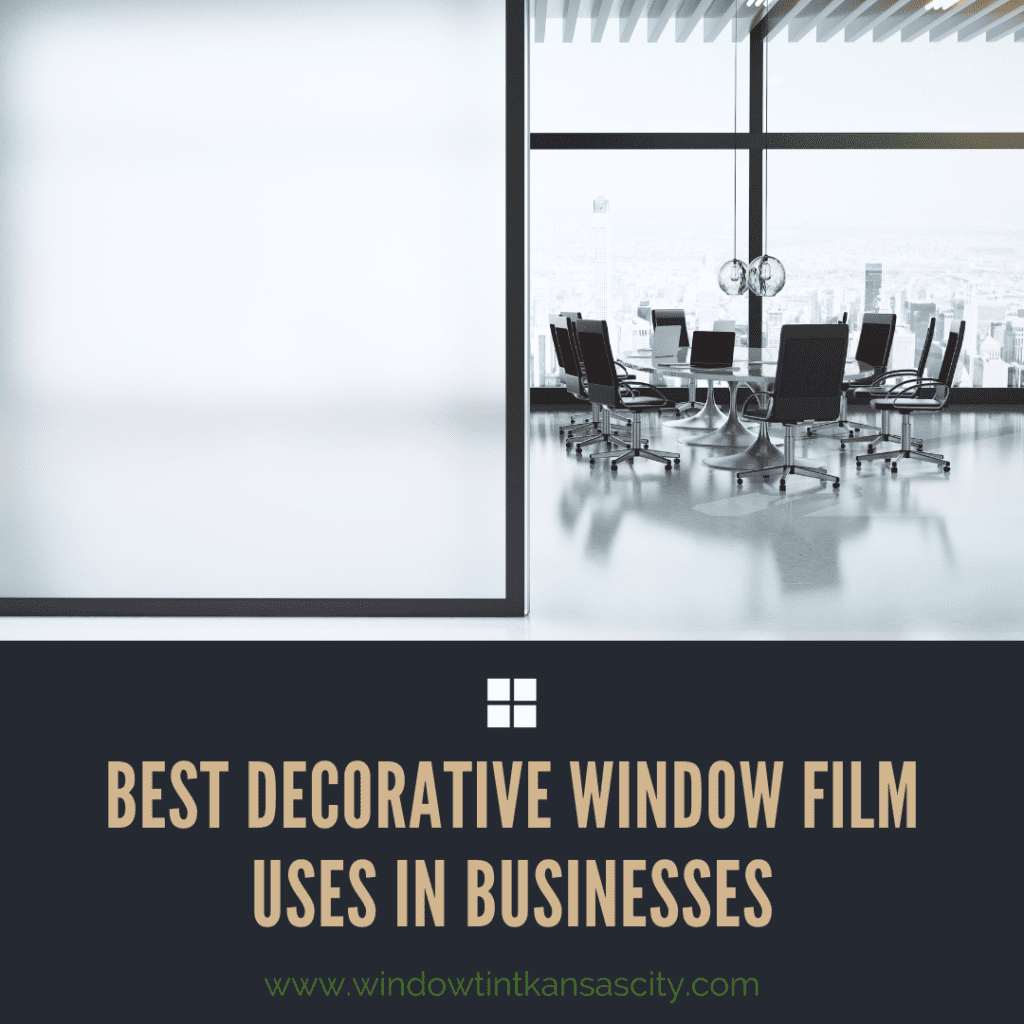 As a business owner in Kansas City, it is essential to create an impression that will draw in potential customers and clients. Decorative window film can be the perfect way to do just that! Affordable and versatile, this material can provide privacy, unique branding opportunities as well additional decorative options for your space. In this blog post we'll delve into what types of window films are available and how best businesses can utilize them.
Decorative Window Film to Create Privacy in Office Conference Rooms.
To guarantee that sensitive presentations remain invisible to those outside the conference room in Kansas City, decorative window films can be used on the glass. Such films make it hard for outsiders to look in while still allowing enough light through. However, if you are looking for extra privacy, certain frosted or partially patterned window films offer maximum discretion. Decorative window film provides businesses the opportunity to add a sense of privacy, personality, and permanence by customizing it with their own branding. Beyond that, this amazing product is efficient in preserving confidential office information while keeping meeting attendees focused on the matter at hand. With decorative window film, offices can be sure they have an outstanding aesthetic presence as well!
Decorative Window Film For Branded Displays on Store Front Windows
Transform your storefront windows into vibrant and customized displays with decorative window film in Kansas City! They are a perfect way to showcase logos, store hours, or any promotional messaging you want visitors to see. Designing the films will draw people's attention and can provide as much or as little privacy that retailers need. Utilizing these stunning designs on storefront windows is an inexpensive but creative approach for boosting brand recognition while still ensuring privacy.
Decorative Window Film in Hotel Room Showers for Privacy
Offering a range of designs to fit any desired look, decorative window film is an affordable yet stylish way to offer privacy in hotel bathrooms in Kansas City. Not only does the film enhance aesthetics but it also provides guests with better safety from slips and falls – making for a more secure shower environment while reducing injuries. Window films are truly the perfect solution for adding both beauty and safety!
Decorative Window Film for Seasonal Displays on Commercial Windows
Decorative window film is an ideal solution for any commercial space in Kansas City seeking to display eye-catching visuals that reflect the season. This budget friendly and straightforward product can turn any glass surface into a beautiful decoration, from Easter bunnies to snowmen! It's so easy to apply, simple to remove when time passes, and extremely cost-efficient. With decorative window film, businesses have the perfect tool available at their disposal in order to keep customers delighted with seasonal displays all year long!
Decorative Window Film to Advertise Events at Sports Stadiums or Music Venues
Providing a vibrant, visually captivating display that remains visible for weeks or even months, decorative window film is the ideal advertising solution for events held in stadiums and music venues in Kansas City. The full sheets of solid color vinyl can be fully customized with unique graphics and text to make an eye-catching statement. Advertising through this medium yields tremendous results as it's able to reach a vast audience – making decorative window film or building wraps one of the most powerful forms of marketing available today!
Decorative Film is Functional and Beautiful
Decorative film has become an increasingly desired adornment to windows in commercial spaces in Kansas City, providing a beautiful and stylish touch while delivering many other advantages. This film prohibits the entry of UV radiation through glass, adds another layer of safety for your office or workspace, and works as insulation against heated or cooled air leaving the building. With so many benefits all-in-one design feature – decorative window film is truly unique way to upgrade any space with practicality and beauty!
Contact Us For a Free Decorative Window Film Consultation for Businesses
Are you in need of a simple yet striking refresh for your business in Kansas City? If so, decorative window film is an ideal alternative. Not only does it provide stylish and unique character to any space but also adds functional benefits without the time-consuming hassle and costly price tag of remodeling. Get started now with our free design consultation service to discover which beautiful display would be perfect for your commercial location!