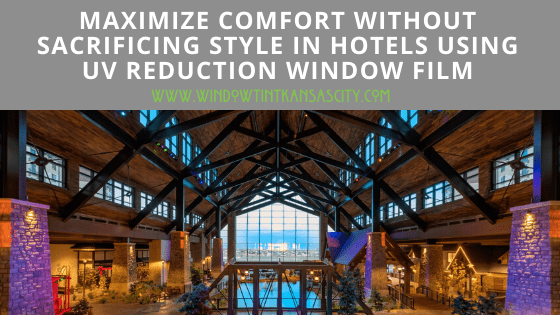 If you own or manage a hotel you know guest comfort is critical. But so is interior style. So, you need to balance keeping the guests happy and providing comfort while still offering gorgeous interiors. Achieving this balance is hard–especially when it comes to reducing UV rays and glare. This is because glare solutions typically obscure views and can be unattractive too. However, a recent job we did reminded us just how stunning our films are and how good at reducing glare.
Solar Window Film For UV Protection And Glare Reduction In Hotels
We recently tinted the windows of a Marriott hotel in Colorado. This location was also thinking about installing expensive roller shades to deal with horrible afternoon glare through their towering windows. But we were able to show them just how much better window film is. As we pointed out to the hotel management–even though roller shades would get rid of glare they would also block views. They agreed and asked us for a film solution to get rid of glare but still keep the gorgeous views through their iconic windows.
Finding A Window Tint For Hotel Style And Comfort
It took our window tinting experts a few different samples to find the right film for this specific case. The windows faced west so the glare of the sun from 2 pm until sunset was strong. We worked through our selection of spectrally selective film until we found one that did not significantly reduce visible light–but also stopped glare. Since preserving the views was important, we knew we needed a powerful film paired with gorgeous aesthetics and it couldn't be dark. The hotel managers really loved the look and efficacy of the Llumar DRN-35–so this is the film we installed. As predicted it does an amazing job of blocking glare, UV rays, and solar heat gain, making the space conducive to use by guests. But it also is protecting the interior furnishings from fading. Plus, the look is stunning. 
Window Tint Dallas For Glare Control on Hotel Windows
This is not the first time we have worked with hotels on with glare issues. Finding the most beautiful and effective film is something we excel at here! If your Dallas hotel has glare issues, contact us for a free, on-site consultation today and let us help you!