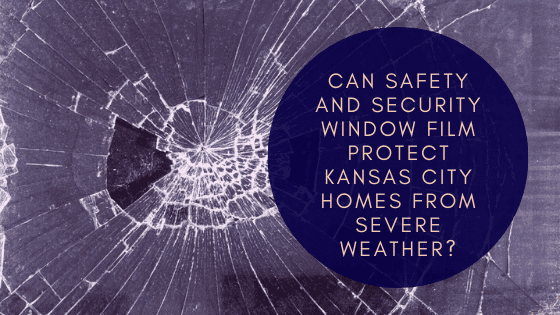 Natural disasters and severe weather can be more common in the Kansas City area, making home protection an important measure to take to defend your loved ones and property. While property insurance is always key and having the appropriate siding can better protect your home, what about your glass doors and windows? Security bars can be really unattractive and don't offer comprehensive protection against severe weather. Home security window film offers a great way to protect your home from severe weather.
The Advantages of Home Security Window Film for Your Kansas Property
Home security window film offers comprehensive protection for the most vulnerable areas of your home– the glass windows and doors. By adding significant strength and flexibility, home security film can add the defense you need. This product bonds broken glass fragments together after any impact from severe weather, natural disasters, break-ins, burglaries, freak accidents, and more. When severe weather occurs, broken glass is actually the leading cause of considerable injury and blast-related death. Home security film is the only option for defending against weather-related threats, helping protect your loved ones and property valuables. This product benefit also makes cleanup easy and safe after a natural disaster strikes, helping reduce the stress experienced in your home.
Work with Kansas City's Trusted Home Security Window Film Contractor
Window Tint Kansas City is honored to be the trusted home security window film contractor serving the Kansas and Missouri area. We have the most comprehensive selection of home security window film in the area, guaranteeing we'll have the right investment for protecting your residential property. We always offer free in-home consultations and provide extensive security assessments of your home. Our team is always available for providing better product recommendations, help you determine other priorities, and more.
For more information regarding home security window film, please contact us!