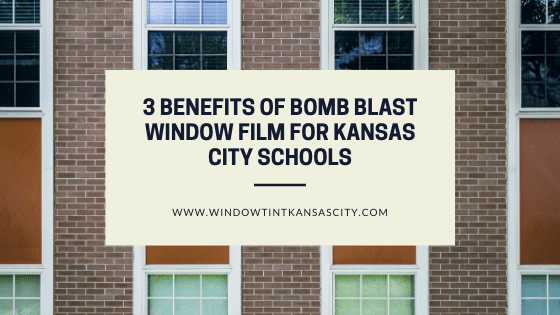 Now is a frightening time for public schools. In the last few years, our country has seen a tremendous increase in the number of violent incidents occurring on school campuses. Today, it's all too easy to purchase a firearm; practically anyone can do it. That includes individuals who have plans to inflict harm on innocent children and teachers.
That's why schools around the country and in Kansas City are installing bomb blast window film. Bomb blast window film offers schools a more affordable alternative to bulletproof glass and provides protection against a wide range of dangers. In the event of an emergency, having a bomb blast window film could mean the difference in dozens of lives saved.
Bomb Blast Window Film: What Schools Need to Know
If you're a school administrator or district board member who's interested in bomb blast window film, you probably have some questions like what is it? And how exactly does it work? Here's what you need to know.
Bomb blast window film isn't totally foolproof. There's no technology on the planet that will make glass 100% shatterproof. If you shoot a window enough times, it's going to break eventually. But what bomb blast window film does do is delay entry and minimize damage. Instead of shattering instantly, a window may have to be shot or struck a number of times before it breaks. This gives staff and police precious time to react.
3 Ways Your School Can Benefit from Blast Mitigation Film
Installing a reliable security window film for your Kansas City school like C-Bond, 3M, Huper Optik, or another bomb blast window film can have more benefits than one. Not only can it make your school safer and more secure but it could also:
Prevent injuries caused by broken glass
Provide additional response time for police, paramedics, security guards, and teachers
Prevent security breaches after hours caused by forced entry
Learn More
Learn more about how your Kansas City school can benefit from bomb blast window film by calling our office today!